The attachments are, the officer,s (Randal Keele,s) arrest report-(Eureka Springs) court dismissal and the Arkansas state police report (the interview) with Ana and Hopi separately.    
Taylor Christian wore a video/camera around his neck at all times, listen to the conversations of the foster parents and Taylor Christian !  (Richard&Mark Mudd) The home where the Original case worker (Ruthann Murphy) along with Pam grudek  the casa worker left him.
The twins and our three year son was left at Kevin & Ramona bailey,s of Green Forest,Ar where they were abused and we have a copy of the Arkansas abuse investigators report below that shows this.  Our baby boy (2 1/2 yrs old came home five weekends in a row with black eyes that the new case worker (Sandi Craig) informed us he feel off the bed, his sister Ana told us that the foster mother (Ramona Bailey) did this, We also called Governor Mike Bebee and he stated it was not his department or problem!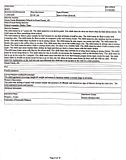 Next i will put the audios that taylor had saved, the links will not play from this web site but you can copy them and play them on your windows media player.
 And this casa worker did nothing more then copy her reports, word for word from the case workers reports.